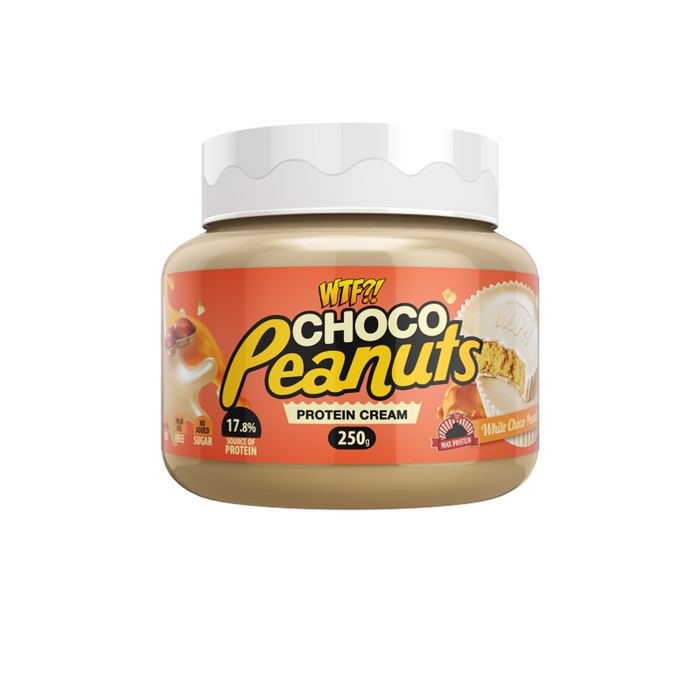 Protein Cream
CHOCO PEANUTS
17.8% protein
No added sugar
No palm oil
Without gluten
Easy Application
Suitable for vegans
Healthy product
Quality raw material
Reject imitations
Max Protein® WTF ?! Choco Peanuts, incredible cream flavored with roasted peanut butter covered with white chocolate with a high percentage of protein, no added sugar, no palm oil and an unmistakable flavor. No more flavor setting aside! Now you can enjoy your breakfasts, your snacks and your # PorqueSí moments with Max Protein® What The Fudge!
NUTRITIONAL INFORMATION

100g

10g

Energetic value

2243.1Kj / 536.6kcal

224Kj / ​​54kcal

Fats

32.5g

3.2g

of which saturates

10.5g

1.1g

Carbohydrates

42.6g

4.2g

of which sugars

3.8g

0.4g

Dietary fiber

0.69g

0g

Protein

17.87g

1.78g

Salt

1.36g

0.1g
Ingredients:
Protein white cream (Sweetener (maltitol), vegetable fats (shea and rapeseed), MILK protein concentrate (19%), whole MILK powder (8%), emulsifier (lecithins)), 100% PEANUT paste, peeled roasted (8.17 %) and salt.
Presentation
Peanut butter covered in white chocolate with high protein value, without palm oil or added sugar [250g].