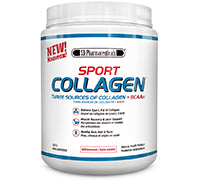 SD Pharma Sport Collagen 526g
SPORT COLLAGEN
Muscle Growth & Strength
Improves Joint Health
Plus BCAAs for Muscle Recovery
Improves Digestive Health

What Makes SPORT COLLAGEN®
 

Unique

SD Pharmaceuticals' SPORT COLLAGEN is a cutting-edge 3-source collagen based supplement plus BCAAs which is formulated specifically for athletes and active people.
TRIPLE SOURCE COLLAGEN + BCAAs
WHY IT'S BETTER
SD Pharmaceuticals SPORT COLLAGEN delivers 3 sources (marine, bovine, chicken) and 3 types of collagen (I, II and III). Most products on the market only contain either marine or bovine collagen, which only deliver type I and III collagen. We provide chicken collagen as a source of type II collagen, which is the most important for supporting healthy joints.
HOW IT WORKS
Collagen is one of the most important structural components of a healthy body. Types I and III collagen are most abundant in the body, and type II collagen is the main protein found in joints and connective tissue. Collagen plays a key role in the regeneration and health of the digestive tract, muscles, ligaments, tendons, bones, skin, hair and nails. With the physical demands of intense exercise and with age, collagen levels can decline, and this results in reduced muscle recovery, sore muscles and joints, skin wrinkles and thin hair. Supplementation with SD Pharmaceuticals SPORT COLLAGEN can correct these issues!
RECOVERY
SD Pharmaceuticals SPORT COLLAGEN delivers 2 grams of branched-chain amino acids (BCAAs) per serving. BCAAs are essential amino acids that work together with the amino acids found in collagen and significantly boost the beneficial effects of collagen when it comes to muscle tissue repair and growth.
THE SCIENCE
Improves Joint & Connective Tissue Health
SD Pharmaceuticals SPORT COLLAGEN is rich in a number of amino acids that play an important role in the creation of collagen in the body. Research shows that taking hydrolyzed collagen can improve joint health and the symptoms of osteoarthritis by stimulating the body's production of joint collagen.
KEY NOTE: Type II collagen is one of the main proteins in joints and cartilage. SD Pharmaceuticals SPORT COLLAGEN delivers type II collagen from chicken collagen.
Enhances Muscle Recovery & Growth
Collagen is a fast-acting protein and a major component of muscle tissue and can therefore impact muscle growth and recovery. Collagen is also high in glycine and arginine, which are two of the three amino acids needed to make creatine in the body. Therefore, supplementing with collagen can have a positive impact on creatine levels and ATP production for your muscles.
Heals The Gut & Improves Digestive Health
An unhealthy gut can be the main cause of many conditions, such as joint pain, low energy, slow metabolism and other diseases. Collagen helps repair the tissues along the digestive tract and helps support a healthy mucosal layer in the gut. The amino acids found in collagen build the tissue that lines the colon and entire GI tract and can even help fix leaky gut syndrome.
Recommended Dose:
Take 1 scoop daily. Mix product will in approximately 250-500ml of water or juice immediately before consumption, or add 1 scopp to your smoothie or protein shake. Consume once daily. Take a few hours before or after taking other medications. Take with food. Protect from heat and mositure. Store in airtight container, protected from loght. Store in a cool dry place. For joint pain: Use for a minimum of 5  months to see benefical effects.
Use:
Assists in the building of lean muscle tissue when combined with regular resistance training and a healthy, balanced diet. Helps in collagen formation to maintain healthy bones, cartilage, teeth and/or gums. Helps in connective tissue formation. Helps to maintain healthy bones, hair, nail and skin. Helps to reduce joint pain associated with osteoarthritis.
Warning:
KEEP OUT OF REACH OF CHILDREN. Do not use if pregnant or nursing. Not intended for use by persons under the age of 18. Ensure to drink enough fluid before, during and after exercise. If you have liver or kidney disease or if you have been instructed to follow a low-protein diet, consult a health care practitioner prior to use. If symptoms worsen, consult a health care practitioner. May cause mild gastrointestinal disturbances. Some people may experience mild gastrointestinal disturbances such as diarrhea, abdominal pain, heartburn, nausea and vomiting, in which case, discontinue use.