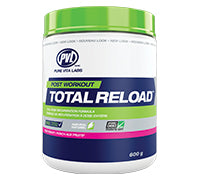 RECOVERY
TOTAL RELOAD
PVL Total Reload is a full-dosed post-workout recovery drink mix. With 15,000mg of 100% free form amino acids for immediate uptake to initiate muscle recovery, Total Reload is fortified with electrolytes, lactic acid buffers, 72 trace elements, water soluble B and C vitamins, and antioxidants. This formula will totally reload your body after intense athletic performance.
– Helps speed recovery
– Banned substance tested - Informed-Choice certified
– Free of all artificial flavours, colours and sweeteners
– Available size: 600 g
Recommended Use
Helps to assist in muscle cell repair, support cardiovascular function, support immune system health, restore plasma glutamine and BCAA levels depleted during exhaustive exercise, help tissue formation and help form red blood cells.
Recommended Dose
(Adults) Use 1 scoop (~33 g) per training day with 250-500 mL of water, shake and enjoy; sip during or after exercise. Cautions: Consult a health care practitioner prior to use if you are pregnant or breastfeeding, if you have liver or kidney disease, if you are following a low protein diet, or if you have any health concerns. Ensure to drink enough fluid before, during, and after exercise.