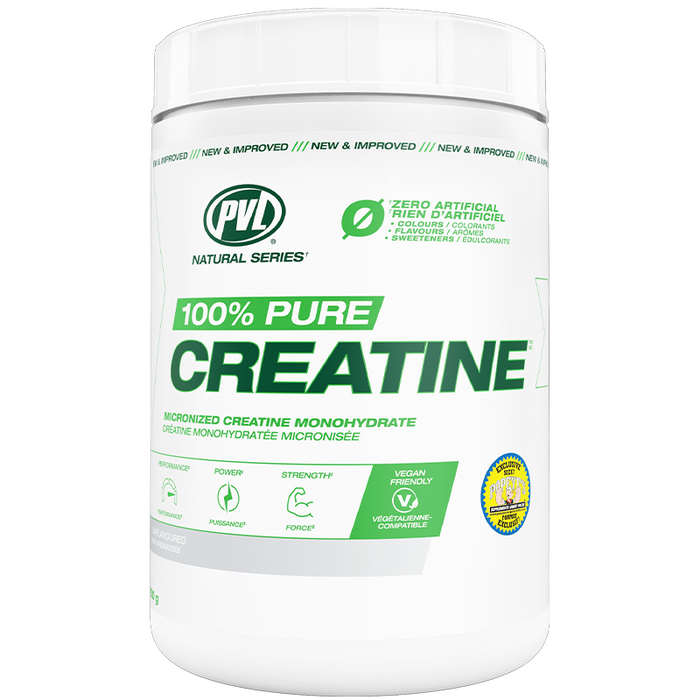 PVL Creatine Monohydrate 750g
PVL NATURAL SERIES – 100% PURE CREATINE™
Creatine is the most popular sports supplement in the world, and for a good reason – it works! The #1 most peer-review researched creatine is CREATINE MONOHYDRATE. If you want the best creatine the market has to offer, you want 100 % Pure Creatine by PVL. Athletes worldwide have tested & used PVL's 100% Creatine since 1996; you can't do better.
World's number one sports supplement
World's #1 Creatine
700+ Studies – 99% Absorbed
100% pure creatine
Micronized
Increases strength and power
Improves performance during high-intensity workouts
Informed Choice certified
Banned substance tested
1000g
Unflavoured
INCREASES STRENGTH AND POWER
Creatine is a must-have for athletes worldwide because of its ability to increase lean muscle mass, improve strength and power, and boost energy levels. PVL utilizes 100% pure pharmaceutical grade creatine monohydrate that is micronized, allowing the mixture to have the highest uptake and solubility possible.
IMPROVES PERFORMANCE
Creatine is the most researched supplement available. Athletes utilize it to recover faster, improve strength, support muscle mass growth, and achieve high energy and speed levels during workouts such as sprinting or weightlifting. Creatine is on top for a reason. Support your goals with PVL 100% CREATINE.