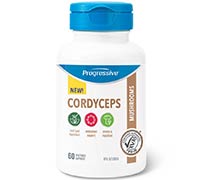 Progressive Cordyceps 500mg 60 Caps
Description:


Cordyceps

Progressive Cordyceps SKU is used both as a source of antioxidants and digestive enzymes. Mushrooms are a source of fungal polysarrharides with immunomodulating properties (immune system). ¹ TRU-ID® certified to guarantee ingredient authenticity. ²

Progressive Cordyceps Benefits

Source of antioxidants
Source of digestive enzymes
Source of fungal polysaccharides with
immunomodulating properties

PROGRESSIVE POINT OF DIFFERENCE:

Organic Cordyceps
Stroma sourced mycelium
Cellulase digestive enzyme
TRU-ID® Certified for ingredient authenticity

Directions: Adults take 2 capsules daily with a meal. For prolonged use, consult a health care practitioner.