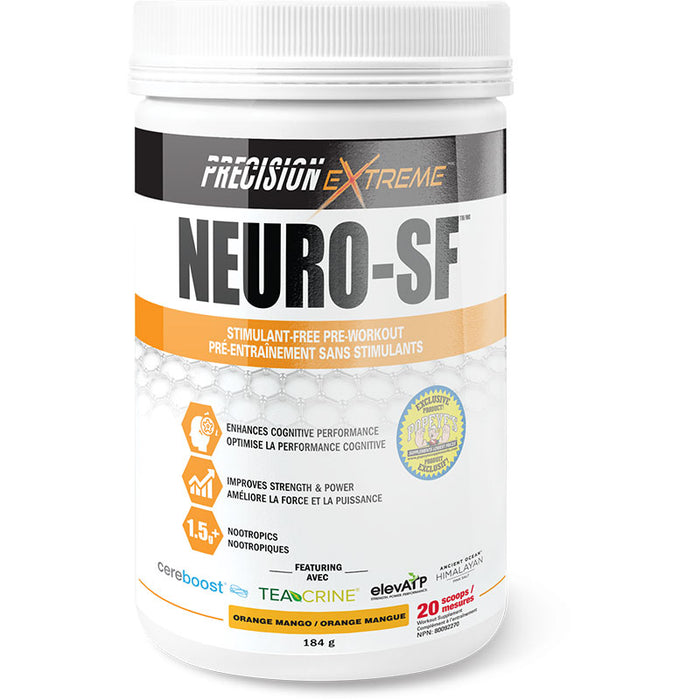 BUY ONE GET ONE FREE! ADD FREE OPTION AT CART.
PRECISION EXTREME NEURO-SF - STIMULANT FREE PRE-WORKOUT
Enhances Cognitive Performance
Improves Strength & Power
Nootropics
Non-Medicinal Ingredients: Himalayan Pink Sea Salt (Ancient Ocean®), Natural and Artificial Flavours, Silicon Dioxide, Xantham Gum, Sucralose, Acesulfame Potassium.
RECOMMENDED USE: Helps support cognitive performance. May help increase muscle size when used in conjunction with a resistance training program. Helps improve strength and power in repetitive bouts of brief, highly intense physical activity.
RECOMMENDED DOSE: (Adults) Mix 1 level scoop (9.48 g) of Precision Extreme NEURO-SF in 500 ml of cold water 15 minutes before exercise. Ensure to drink enough fluids before, during, and after exercise. For prolonged use, consult a health care practitioner.
CAUTION: Do not use if you are pregnant or breast feeding. Consult a health care practitioner prior to use if you are taking blood thinners or digoxin or if you have diabetes. May cause digestive problems. If you have liver disease, kidney disease and/or a seizure disorder, consult a health care practitioner prior to use.