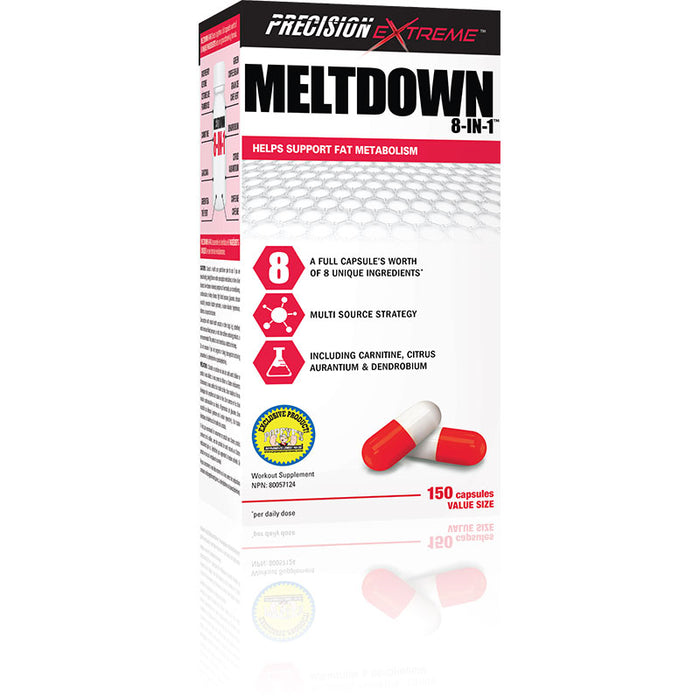 Precision Extreme Meltdown 144 caps
Precision Extreme Meltdown 8-IN-1
The best fat burners from around the world—all in one product.
Extreme Fat Loss 8 Unique Ingredients. 1 Groundbreaking Formula.
Meltdown 8-in-1 is a groundbreaking formula that fuses together a full, scientific dose of 8 powerhouse ingredients. No empty sizzle or ineffective fairy dusting—just straight fat blasting results.
Meltdown 8 in 1 fuses together a full capsule's worth of 8 unique ingredients into one ground breaking formula.
Dendrobium

Citrus Aurantium

Green Coffee Bean

Green Tea

Carnitine

Raspberry Ketone

Garcinia

Caffeine
OTHER NON-MEDICINAL INGREDIENTS: Capsule Shell (Gelatin, Purified Water), Magnesium Stearate, Microcrystalline Cellulose, Titanium Dioxide.
RECOMMENDED USE: Helps support fat metabolism. Helps to (temporarily) relieve fatigue, to promote endurance, and to enhance motor performance.
RECOMMENDED DOSE: (Adults) Take 3 capsules with breakfast and 3 capsules with lunch or dinner for a total of 6 capsules per day. (Not intended for persons under 18 years of age).