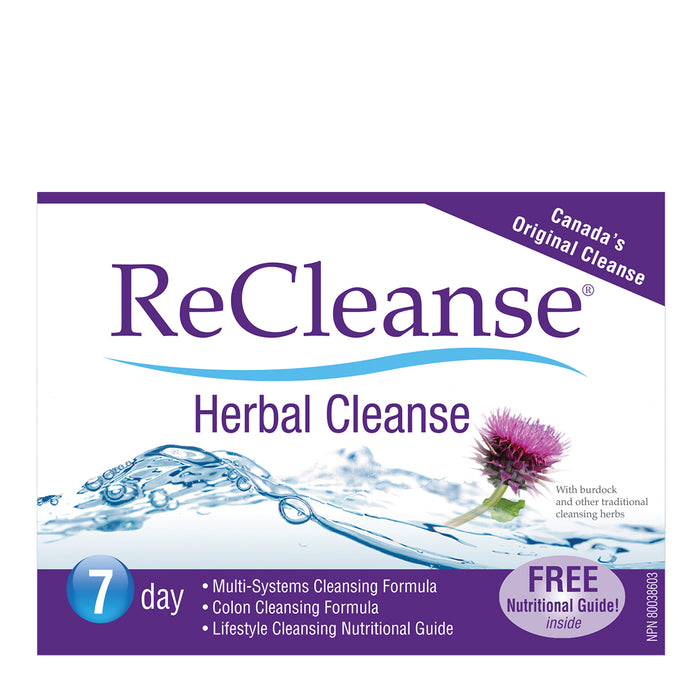 Prairie Naturals Recleanse 7 Day
ReCleanse ® 7-Day Cleanse Kit
Easiest, gentlest & most simple-to-use internal cleansing product available
Cleansing herbs support body's natural detoxification system
Complete ready-to-go kit includes 7-day meal plan
Supports the gentle elimination of toxins
See & feel the difference in just 7 days
Enhances concentration & mental acuity
Lose extra pounds & gain extra energy
Improves digestion & eating habits
The perfect cleanse for first-timers
Reduces allergy-related symptoms
Promotes healthy skin tone
Improves sleep patterns
Retrains your taste buds
Balances blood sugar
Tested gluten-free
Safe & Effective
100% Vegan
Non-GMO
Description
See & Feel the Difference in Just 7 Days with ReCleanse ® Cleanse Kit
ReCleanse® Herbal Cleanse is a safe, effective 7-Day whole body detoxification kit supported by clinical use. ReCleanse®; Herbal Cleanse is formulated to gently and effectively support your body's natural detoxifying and elimination process. ReCleanse®; Herbal Cleanse gently cleanses more deeply with regular use, enabling your body to heal and function optimally while promoting excess weight loss.
ReCleanse® activates your body's natural cleansing systems during the one week program. Each person is different based on unique lifestyle, genetics and toxin accumulation over years and even decades. Elimination of toxins is a gradual process that can take longer than one week. Regular and repeated use of ReCleanse® will help your body gradually and gently cleanse itself of a wide range of toxic substances without harsh side effects and while allowing a variety of cleanse-friendly foods. ReCleanse® consists of two parts which together make up a whole body detox program: the Multi-Systems Cleansing Formula and the Colon Cleansing Formula. By combining the benefits of over 25 herbs, ReCleanse® can rejuvenate and restore the cleansing and detoxifying systems of the body which deactivate, transform, filter and eliminate toxic substances. These herbs are known to support and enhance the natural cleansing ability of the kidneys, glands, liver, blood, digestive system and colon.
Improved general health, digestion and energy levels in just 7 days! With ReCleanse®; Herbal Cleanse – you'll feel better and better and better. 100% Vegan. Tested gluten-free. Contains NO soy, dairy, eggs, flavours, colours, preservatives, sweeteners, GMO ingredients.