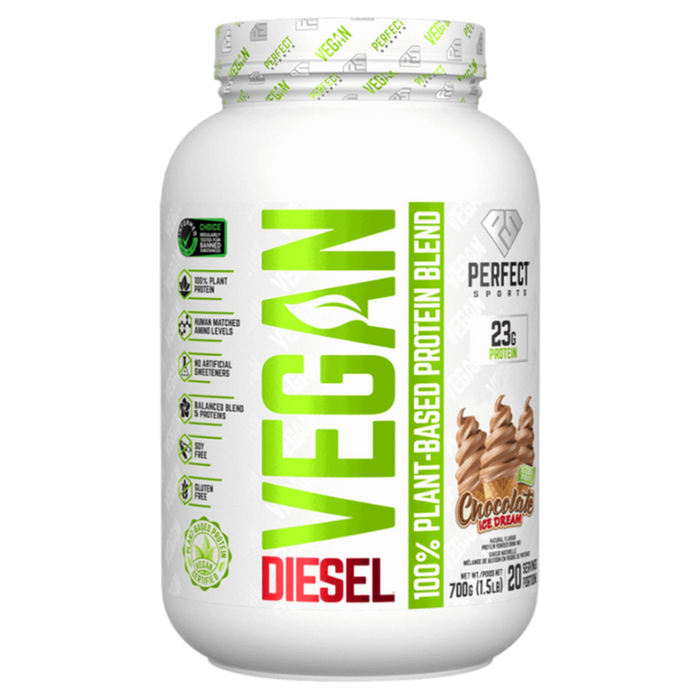 Perfect Sports Diesel Vegan
A PLANT-BASED PROTEIN THAT DELIVERS WHAT YOU NEED!
DIESEL Vegan is a 100% whole food, plant-based blend of 5 unique proteins and the first fully vegan protein with human-matched levels of amino acids that are within 13% of levels, as stated by the World Health Organization (W.H.O.). Most people think that vegan proteins are the same as whey, but that's simply not true! They are often sadly deficient in many of the critically important aminos in the proper ratio. DIESEL Vegan has been calibrated to deliver 23 grams of pure protein with over 2 grams of the #1 growth and recovery amino – Leucine! If you thought that only non-vegan proteins could deliver aminos like this, think again!
CHALK-FREE GUARANTEE!
Yesterday's vegan proteins were tolerated by some because they had to. Now, DIESEL Vegan gives you the taste and texture that will make you truly ENJOY your protein. It has smooth texture and is absolutely delicious! PERFECT Sports research and development department formulated, sampled and tested every option, along with the rest of the PERFECT Sports team, to ensure that each and every flavor of DIESEL Vegan was smooth and enjoyable without an ounce of chalky mouth feel. If you were ever turned-off of vegan protein because of the way it felt going down, you have found your match in DIESEL Vegan! Guaranteed!
MODCARB® REAL FUEL FROM REAL FOOD
DIESEL Vegan has your goals in mind! PERFECT Sports has added ModCarb®, an expertly concocted mix of 6 organic ancient grains, with over 20% protein, to control cravings and truly fortify this Vegan protein. This isn't some run-of-the-mill mix of pea protein; this mix is loaded with Organic Oat Bran, Amaranth, Quinoa, Buckwheat, Millet and Chia. ModCarb was just the start – PERFECT Sports also added Pumpkin Seed protein and Sprouted Brown Rice to seal the deal. Stacking is the key to getting all of your aminos in and this Vegan protein is STACKED!
SolaThin® FOR RECOVERY AND WEIGHT MANAGEMENT
The natural power of SolaThin® (an ultra-pure 90% protein derived from potato) was an absolute must in this formula! Research participants lost an average of 1.5 lbs of fat in 21 days, that's 22% more fat lost than the control group! Who doesn't want to drop some extra weight, right? It's simple, muscle tissue metabolizes fat – more protein means faster muscle repair, means lean and mean physique! PERFECT Sports didn't just stop at a protein that fits the bill, they added more so you can achieve your goals faster!
FLEXITARIANS FINALLY HAVE THE RIGHT OPTION!
If you have ever considered adding a plant-based protein to your diet but were afraid to, PERFECT Sports understands! This is the plant-based protein built for you. Smooth texture, delicious taste and big on performance! DIESEL Vegan is the perfect way to add plant-based nutrients to your diet without missing a single beat. Whether you are vegan, paleo, keto or flexitarian, DIESEL Vegan is for you!
INGREDIENTS:
Fava Bean Protein, Canadian Pea
Protein, ModCarb® [Gluten-Free]
(Organic Oat Bran, Organic
Amaranth, Organic Quinoa, Organic
Buckwheat, Organic Millet, Organic
Chia), Organic Sprouted Brown Rice
Protein, Organic Pumpkin Seed
Protein, Vegan Coconut Milk,
Solathin® Potato Protein, Coconut
MCT (70%), Natural Flavour, Cocoa,
Plant-Based Cellulose, Stevia Extract.