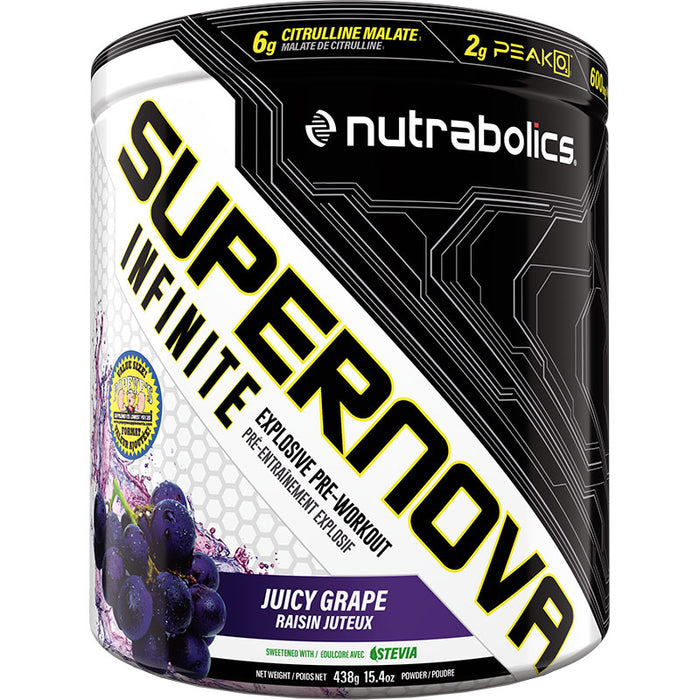 Nutrabolics Supernova Infinite 438g
EXPLOSIVE PRE-WORKOUT
Supernova® Infinite was scientifically developed to ignite your workouts with explosive energy, ultimate endurance and laser focus like you have never felt before. Evolved from the pre-workout that changed the supplement game, Supernova® Infinite contains 10 of the most clinically-proven ingredients for pre-workout supplementation, including a 2 gram mega-dose of the patented performance-enhancing adaptogen Peak O2,™ 6 grams of Citrulline Malate, 1.5 grams of the muscle catalyst Betaine, 500mg of mood-enhancing Lion's Mane, and 600mg of the CNS stimulant Dendrobium. This fully transparent energy amplifier is also equipped with a targeted neural blend, which includes the nootropics HuperzineA (150mcg), Theanine (100mg), Theobromine (300mg), and a clinical-strength 350mg dose of the hyper-focus smart supplement, DMAE (350mg). Get Ready for Infinite Power, Infinite Strength & Infinite Energy with Supernova® Infinite.
ARE YOU STRONG ENOUGH TO GO SUPERNOVA?
You think you can handle the nuclear intensity of our new pre workout energy amplifier, but you can't. With every ingredient dosage fully exposed its obvious to see that SUPERNOVA™ is a force unlike anything you have ever experienced. This high-tech pre workout ignites your nervous system and overloads your power levels, making you smash every workout and leave the competition light-years behind.
EXCLUSVIVE 4X ENERGY CORE TECHNOLOGY
SUPERNOVA™ is the first of it's kind. It's unique 4X Energy Core Technology is a scientifically formulated matrix of Dendrobium, Theobromin, Synephrine and Caffeine to target every synapse in your brain to fire in sync to deliver an optimal workout performance! . FULLY TRANSPARENT EXPLOSIVENESS
Unlike most other pre workouts on the market SUPERNOVA™ has nothing to hide. A fully disclosed formula along with zero proprietary ingredients, artificial colors, aspartame, sugar, gluten or calories the advanced formula of SUPERNOVA™ has been crafted with your fitness goals in mind. SUPERNOVA™ is an industry first, filling your veins with a massive 6000 mg of skin-tearing, performance-enhancing Citrulline Malate! In addition to this and the 4X Energy Core Technology SUPERNOVA™ is packed with Beta Alanine, Betaine, Theanine and Huperzine. The matrix of these ingredients will change your workout forever, providing your muscles with advance nutrient transportation, ignited energy & focus and amplified vasodilation.
SUGGESTED USE
Consume 1 serving of SUPERNOVA™ (14.4 g) to 8 oz – 10 oz / 250 ml – 300 ml of cold water and stir or shake for a few seconds. Consume 15 minutes before exercise. Begin with 1 packet to assess tolerance before considering increasing the dosage. For best results, combine with a diet and exercise program.
For adult use only. Keep out of reach of children. Consult your physician before using the product if you have any medical condition. Do not use if you are pregnant or nursing.