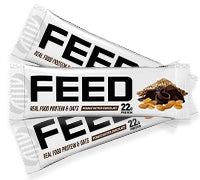 HIGHEST PROTEIN REAL FOOD BAR
FEED is a delicious, real food protein and oats bar. No fake fiber, no fillers, no sugar alcohols, no artificial sweeteners. Rich in both mouth-watering flavor and wholesome macronutrients, this is one bar you definitely don't have to feel guilty about eating! This on-the-go power meal is loaded with 22g of whey and nut protein, 3g of effective fiber, and 2.8g of healthy fats. Whether you're pushing for the finish line or your next big project deadline, FEED provides the complete nutrition needed to fuel your results.

*NOTE: Nutritional information and ingredients may vary from flavour to flavour.
Suggested Use: Bite into a FEED bar as a meal replacement, healthy snack, or to fuel up for a training session. For best results, use in combination with a diet and exercise program.