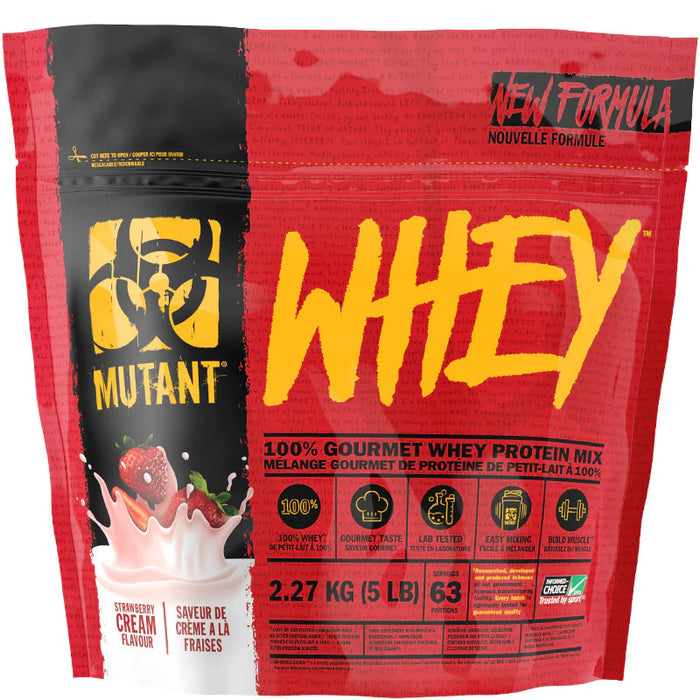 MUTANT's #1 selling protein
63 servings 
22 g of 100% whey protein
10.4 g EAAs & 5 g BCAAs (naturally present)
Whole intact protein – no amino spiking (true protein tested†)
Added digestive enzymes to optimize absorption
No aspartame
Informed-Choice

 

certified*
IOC/WADA compliant*
Real protein to help build real muscle▵
FAQ
Q: Most protein powders are clumpy. Is MUTANT WHEY protein the same as all the rest?
A: No. In fact, we recommend when mixing to add water or milk (dairy or plant based) in your shaker cup first before adding your scoop of WHEY PROTEIN. Then shake for 10-15 seconds. Liquid first, protein powder second = no clumps.
Q: When is the best time to use MUTANT WHEY?
A: Chug MUTANT WHEY down within 30 minutes after your workout or anytime throughout the day for a quick and easy protein drink. For those on a high-volume training program, we recommend using 2-3 servings per day.
Q: What is the best way to drink MUTANT WHEY?
A: MUTANT WHEY protein powder tastes amazing when mixed with water alone. However, you can also mix MUTANT WHEY with your beverage of choice such as almond milk, dairy milk, and even cold brew coffee!
Q: I'm lactose intolerant, can I use MUTANT WHEY?
A: No, we don't recommend using MUTANT WHEY if you're lactose intolerant. It's best to use an isolate protein powder such as MUTANT ISO SURGE if you're looking to avoid lactose.
Q: Is MUTANT WHEY certified non-GMO?
A: Yes, MUTANT WHEY contains no genetically modified ingredients (GMOs).
Q: Does the whey protein in MUTANT WHEY come from grass-fed cows?
A: Yes, we use 100% certified GRASS-FED whey in MUTANT WHEY.