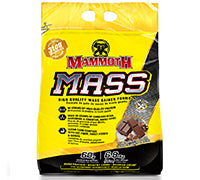 Mammoth Mass 
Mammoth Goals... Mammoth Results!
The Facts:
MAMMOTH MASS Weight Gainer provides more protein, better carbs and far less sugar giving you more of what you want in a potent mass muscle building formula. With 60 grams of the finest whey protein isolate, whey protein concentrate, micellar casein and calcium caseinate available, combined with the MAMMOTH Clean Carb Complex featuring Quinoa, Sweet Potato, Rolled Oats, it will have you primed with clean quality calories for MAMMOTH gains!
Mammoth Mass Delivers:
• 60 grams of Protein
• 1250 Calories
• 39 grams BCAA's, Glutamine and Essential Amino Acids
• High Quality Clean Carbohydrate complex featuring Rolled Oats, Sweet Potato and Quinoa
• Easy to mix
• Reduced Sugar
• Delicious taste available in Chocolate Flavour, Strawberry Flavour, Vanilla Flavour & Banana

Revolutionary Ingredients:
Featuring a revolutionary carbohydrate matrix of Quinoa, Sweet Potato, Rolled Oats and Low Glycemic Maltodextrin, along with the power and potency of high quality MCT's, MAMMOTH MASS is by far the most advanced and complete Mass Muscle Weight Gainer for those looking for more than just hitting the BIG TIME, but the MAMMOTH Time!


Suggested Use: Blend 4 scoops (320g) of Mammoth Mass with 20 fl.oz (591 ml) of water.
On training days take 1 serving for breakfast and 1 serving post workout. On non training days take 1 serving for breakfast and 1 serving in the afternoon.

*Mammoth 3100 Program
Mix 4 scoops of Mammoth Mass with 20 fl.oz (591ml) partly skim milk (2%) twice a day for a Mammoth 160 grams of Protein and 3100 Calories