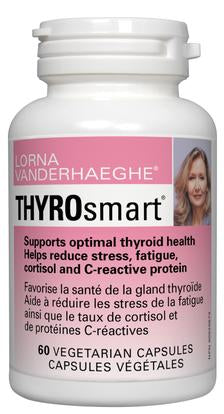 Lorna Vanderhaeghe Thyrosmart 60 caps
ThyroSmart (120 Vcaps) | Thyroid Support / Improve Energy | Lorna Vanderhaeghe
THYROSMART for Low Thyroid
 
Supports Optimal Thyroid Health, Improves Energy and Metabolism 

What to expect from this product:

For those with low thyroid:
Supports thyroid health
Improves conversion of T4 to T3
Enhances weight loss
Improves energy
Supports proper hormone balance
Improves sensitivity to temperature
For those taking thyroid medication:
Works with thyroid medication (if you are still feeling the symptoms of hypothyroidism) to enhance the beneficial action of supplemental thyroid hormones.
Do not stop your thyroid medication. THYROSMART is to be used in conjunction with your thyroid medication.
Caution for those with hyperthyroid. Do not take THYROSMART if you have hyperthyroid without the recommendation of your health care practitioner.
 
The thyroid gland is located in the front of the neck below the voice box. The thyroid secretes two hormones that are essential for regulating metabolism: triiodothytonine (T3) and thyroxine (T4). A deficiency in these hormones results in hypothyroidism, a common affliction that is estimated to affect almost 2 in 10 women in North America. Symptoms include: low body temperature, weight gain, fatigue, depression, recurrent infections, sensitivity to cold, dry skin, headaches, reduced libido and menstrual problems.

Severe hypothyroidism requires a prescription from your health care practitioner for supplemental thyroid hormone. Low thyroid function that is mild or sub-clinical may respond to nutritional and herbal supplementation. Even if you are on a thyroid medication, nutritional support in the form of THYROSMART may alleviate some of the symptoms you may still be experiencing.

Vegan Friendly
  
TAKING YOUR BASAL BODY TEMPERATURE
Plan to take the test first thing in the morning after you wake up, because it's important to measure temperature after you have had adequate rest.
Before going to sleep, if you are not using a digital thermometer shake down a regular thermometer to below the 95-degree mark and place it by your bed.
Immediately upon waking, place the thermometer in your armpit (if using a regular thermometer keep it there for a full 10). Hold your elbow close to your side to keep the thermometer in place.
Read and record the temperature and date.
Repeat the test for least three mornings (preferably at the same time of day).
A reading between 97.6 and 98.2 degrees F is normal. Readings below 97.6 may indicate hypothyroidism.
Note:Menstruating women must perform the test on the second, third, and fourth days of menstruation. Men and postmenopausal women can perform the test at any time

Low Thyroid?
by Lorna Vanderhaeghe

If you have the following symptoms low thyroid may be your problem:
Thinning hair
Dry skin
Weight gain or difficulty losing weight
Sensitivity to cold
Menstrual problems
Fatigue or lethargy
Headaches
Hypothyroid or low thyroid hormone is very common in Canada, affecting approximately 20-25 percent of the female population and about 10 percent of males. An additional 20 percent may also have subclinical or mild hypothyroidism whereby their TSH is within normal range. The thyroid secretes two hormones T3 and T4 that are crucial for controlling our metabolism. Because they affect every cell in the body, a deficiency will result in many symptoms including those mentioned above.

Severe hypothyroidism, confirmed by a thyroid stimulating hormone (TSH) test, requires the use of thyroid medication. But if you have mild or subclinical low thyroid, where your TSH is greater than 2.0 IU/ml but less than the 5.5 IU/ml level indicative of hypothyroidism, the nutrients found in THYROSMART may help. Or, if you have been on thyroid medication for a while and you still have symptoms you may not be converting your thyroid hormones very well. THYROSMART may also help correct this.

Ashwagandha and guggal (Comiphora mukul) are two herbs that work together to help improve thyroid activity. Ashwagandha increases the level of T4 thyroid hormone while guggal (Comiphora mukul) enhances the conversion of T4 to the more potent T3 form directly on the thyroid gland. Ninety-five percent of all cases of low thyroid are due to impaired conversion of T4 into T3 in the tissues of the thyroid gland. THYROSMART also contains other important nutrients known to improve thyroid health.

Vitamin D is essential for the manufacture of thyroid hormone. In Canada we tend to see higher rates of low thyroid due to our low exposure to sunlight. We also need tyrosine, found in protein, to make thyroid hormones. Start your day with an egg, a protein shake or a chicken breast. Now that we are eliminating salt from our diet we often do not get enough iodine to support proper thyroid health.

The thyroid gland plays a crucial role in our overall health. If it is not operating at peak performance you won't be able to lose weight or you may have drastic increases in your weight over a short period of time; your hair may thin including your eyebrows; your skin will wrinkle excessively and be dry; and you may experience menstrual problems or severe menopause symptoms. Combine THYROSMART along with your multivitamins (with minerals) and essential fatty acids for optimal health.