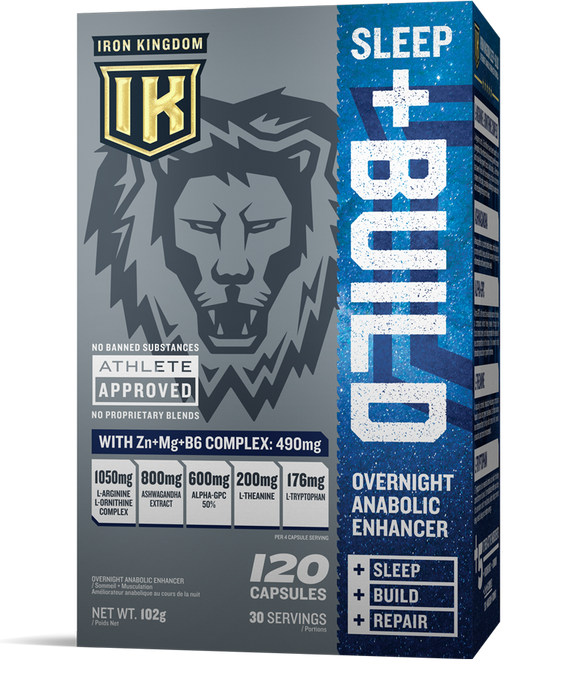 Iron Kingdom Sleep + Build 120 Caps
An effective overnight anabolic enhancer designed to help stimulate natural growth hormone and assist in inducing deep sleep naturally.
Helps stimulate the production of natural growth hormone
Helps promote deep and restful sleep
Assists in restoring energy
Helps reduce stress and enhance mood
Free of synthetic melatonin
Veggie Capsules
1050

mg

L-ARGININE and
L-ORNITHINE COMPLEX

L-Arginine and L-Ornithine have been found to be synergistic in their effects to help impact growth hormone and insulin-like growth factor. Additionally, L-Ornithine has been linked with decreasing cortisol and stress markers in the body, potentially assisting the human body with reducing stress prior to sleep.

Ashwagandha is a potent herbal extract, which help promote restful sleep, and aids recovery by reducing inflammation and lowering stress levels.

Alpha-GPC is the most bio-available source of choline that freely moves through the blood-brain barrier and helps promote the release of neurotransmitters in the brain, which can help stimulate production of growth hormone.

A potent naturally derived relaxation inducing compound found in black and green tea leaves. Its effects on various neurotransmitters help with anti-stress, overall relaxation, and mood enhancement. 

L-Tryptophan is an essential amino acid which the body cannot form on its own. It is metabolized within your body into serotonin and or melatonin, which helps promote deep, restful sleep and restore energy.