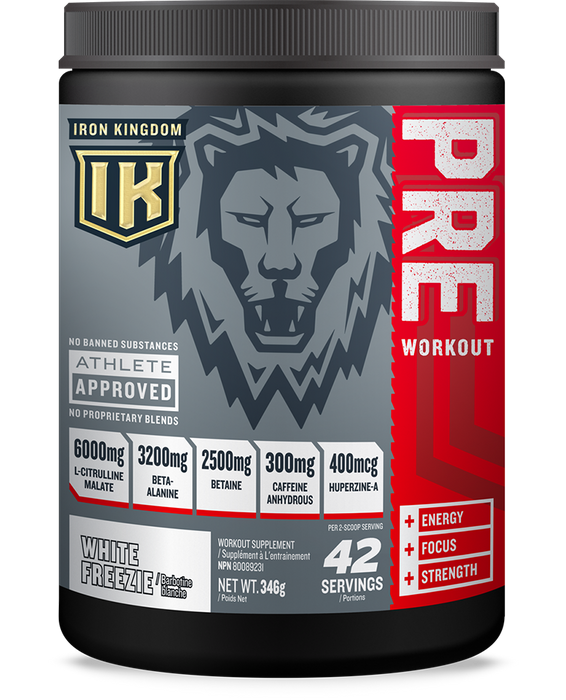 Iron Kingdom Pre Workout 336g
A powerful pre-training formulation with key ingredients that will help increase strength, power, provide energy and enhance focus levels.
Assists in explosive strength and power
Helps build lean muscle mass
Killer pumps
Helps increase energy and enhance focus
6000

mg

L-CITRULLINE MALATE

L-Citrulline Malate helps up-regulate the Arginine Nitric Oxide (NO) pathway, increasing NO synthesis. This helps improve the speed and efficiency in which resources reach your cells, promoting strength, endurance, and recovery.

Beta-Alanine helps increase strength and muscular endurance during intense exercise, and assists in delaying the onset of neuromuscular fatigue, allowing you to train harder and longer.

This amino acid helps increase power, endurance and lean muscle mass.

Caffeine is known for its ability to heighten focus, and increase energy and performance.

This nootropic ingredient supports cognitive function and helps improve concentration.
OTHER ACTIVE INGREDIENTS
L-Tyrosine
Grape Seed Extract
Taurine
Vitamin C
Vitamin B6
Piper Nigrum Fruit
Extract (Black Pepper)