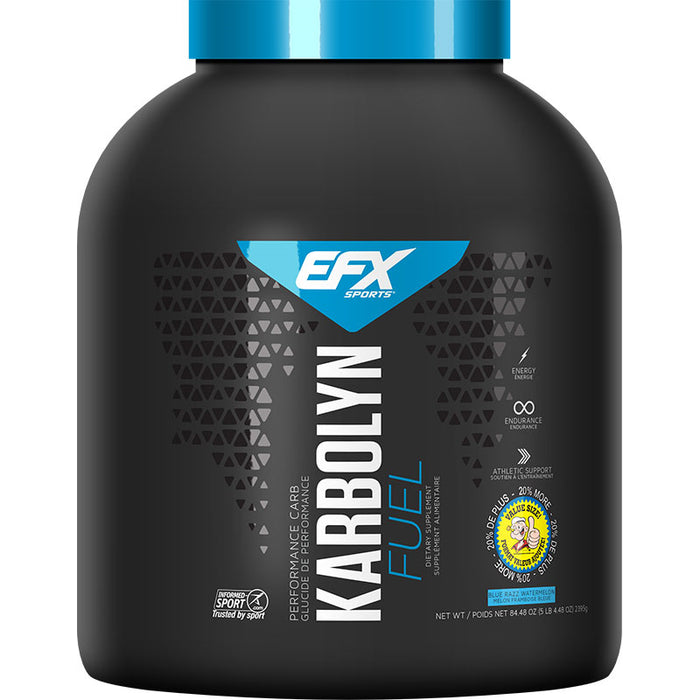 Accept No Substitutes!

Absolutely Nothing Can Fuel Your Monster Workouts Like Karbolyn

Bio-Engineered High-Performance Carbohydrate

Quickly Hyper-Loads Muscle Tissue with Glycogen for Optimum Performance, Endurance & Recovery!

Designed With A "Sustained-Release" Mechanism for Over 2 Hours of Stimulant-Free Energy!

100% Sugar Free & Gluten Free!

Mixes Instantly: No Clumping or Gelling!

Pre, Intra & Post-Workout

Informed Choice

Manufactured in an Informed-Choice Approved Facility

40 Servings

Dietary Supplement

100% Pure! Banned Substance Free!

Patent-Pending Bio-Engineered Carbohydrate
Karbolyn The Future of Carbohydrates
Karbolyn represents the dawn of a new era of carbohydrate supplementation. Unlike other carbohydrate sources, Karbolyn is quickly absorbed into the bloodstream like a simple sugar but without the typical spike or crash caused when your muscles run out of fuel. In fact, Karbolyn is a "homopolysaccharide" (relatively complex carbohydrate) that has been proven to be absorbed 18.21% faster (see chart below) than pure Dextrose (a simple carbohydrate), yet it still provides the sustained energy of complex carbohydrates.
Advanced Technology Make Karbolyn Superior to Other Carbohydrates
Carbohydrate sources such as unprocessed waxy maize starches are inferior for rapid glycogen loading and nutrient absorption. These starches have not been accurately processed to attain rapid absorption into the bloodstream. However, Karbolyn uses a proprietary multi-stage "Enzymatic Milling Process" to reach optimal molecular size. This yields a superior bio-engineered carbohydrate for quick gastric emptying without any side-effects (such as stomach bloating or cramping) and is rapidly absorbed into the bloodstream.
Suggested Use
Mix 1 scoop in a shaker cup with 10-16 ounces of water and drink 60 minutes before exercise.
Dosing Guide For Best Results:
Pre-Workout
Intra-Workout
Post-Workout

Energy & Performance

Intensity & Endurance

Replenish & Recover

Mix 1 Scoop in 10-16 oz. of water

Mix 1 Scoop in 10-16 oz. of water

Mix 1 Scoop in 10-16 oz. of water
Note: Ingredients and values may be slightly different depending on flavour.