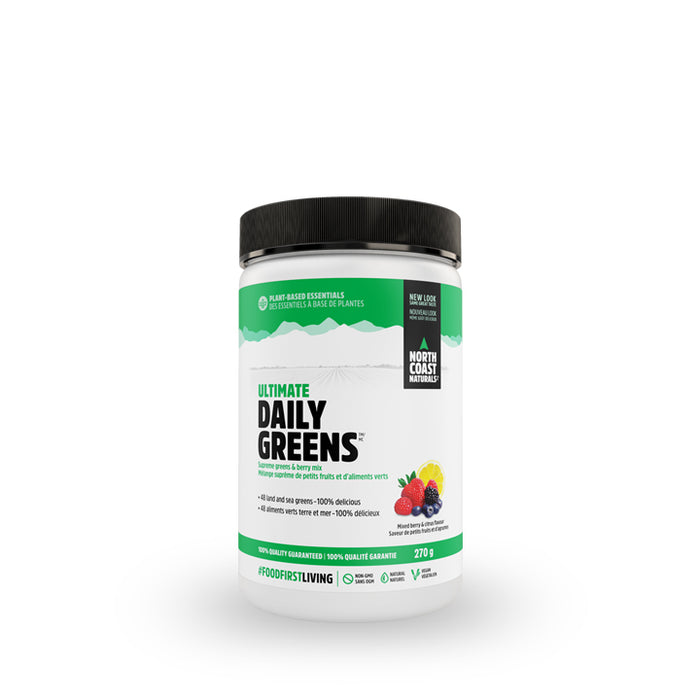 North Coast Naturals Daily Greens
ULTIMATE DAILY GREENS
A single fruit or vegetable alone cannot provide all that we need. Humans need a diverse, phytonutrient-rich diet that provides the full rainbow of colours found in vegetables and fruits. Phytonutrients are plant-based compounds that are known to play an important role in human health and offer powerful antioxidant protection. Each antioxidant-rich serving of Ultimate Daily Greens™ can help neutralize the damaging effects of free radicals while also providing a highly alkalizing blend that helps the body restore its optimal acid/alkaline balance. The addition of red marine algae not only contributes to the already alkalizing blend but is also very mineral rich. Studies demonstrate that isolated plant compounds can never replace the synergy that exists in whole plants. Our superfood blend provides the goodness of whole foods, not just individual plant chemicals isolated in a lab. You can't beat Mother Nature. We carefully craft our formula in small batches to ensure that each ingredient going in maintains its purity and potency. We only make what we proudly use ourselves!

• Concentred superfruits, land, and sea greens
• Includes saskatoon berry and phytoplankton
• Pre- & Pro-biotic support
Nutrition Facts
Serving Size: 1 Scoop (9 g)
Servings per Container: 270 g - 30, 540 g - 60

Amount Per Serving

% Daily Value *

INGREDIENTS per 9G
 
 
Fruits- Fully ORAC* Valued
3024 mg 
 
Organic Multi-Fruit Preblend (40,000 umoleTE/100g*)
2404 mg 
 
(Acai, Cranberry, Apple Fiber, Wild Bilberry, Wild Lingonberry, Black Currant, Aronia, Pomegranate, Wild Blueberry, Concorde Grape, Sour Cherry, Wild Elderberry, Red Raspberry, Black Raspberry; in a base of organic evaporated cane juice)  
Lemon Juice powder (50,000 umoleTE/100g*)
190 mg 
 
Grape Seed Powder (1,600,000 umoleTE/100*)
150 mg 
 
Organic Amla Berry Powder (90,600 umoleTE/100g*)
95 mg 
 
Acerola Berry Powder (90,600 umoleTE/100g*)
95 mg 
 
Saskatoon Berry Powder (30,000 umoleTE/100g*)
90 mg 
 
Vegetable+Grass Greens 
2501 mg 
 
Parsey, Organic Sprouted Brown Rice, Canadian Flax Seed Powder, Organic Alfalfa Leaf, Quinoa, Broccoli, Kale, Carrot, Spinach, Honey Leaf, Red Beet Powder   
Sea Vetetables + Phytoplankton 
1858 mg 
 
Spirulina 
1140 mg 
 
Chlorella 
380 mg 
 
Red Algae Powder 
225 mg 
 
Beta Carotene, Lutein, Xanthophyl Blend

30 mg 
 
Nova Scotia Dulse 
30 mg 
 
Marine Phytoplankton 
23 mg 
 
Irish Moss 
15 mg 
 
Atlantic Kelp
15 mg 
 
Pre and Probiotic
592 mg 
 
Inulin (Prebiotic Fibre), Bacterial Culture (Non-dairy probiotics from Lactobacillus Fermentum) (2 Billion cfu/serving)   
Phyto Foods
389 mg 
 
Maca Root Powder
190 mg 
 
Matcha Green Tea
95 mg 
 
Artichoke Powder 
95 mg 
 
Spices of Life Blend (Cinnamon,Cayenne, Turmeric, Piperine) 
9 mg 
 

* Percent daily values are based on a 2000 calorie diet
  † Daily Value not established
Note: Serving Sizes are rounded to the nearest whole serving
Additional Ingredients: Raspberry Ketones, Natural fruit flavours, Citric Acid, Magnesium Oxide, Stevia (debittered).
Allergy Information: Packaged in a GMP facility on machinery that also handles  the following ingredients, and this product therefore inadvertently may contain: Oat, Barley, Milk, Wheat, Soy, Corn, Egg, Peanuts, Tree Nuts, Sulphites, Sesame Seeds.

Warning: n/a.