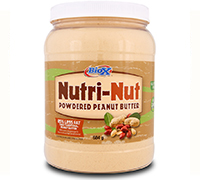 Bio-X Nutri-Nut Chocolate Peanut Butter

4g – 5g of protein per serving
Non GMO & Gluten Free
No artificial flavors or sweeteners
85% LESS FAT than traditional Peanut Butter
Nutri-Nut is made with top quality peanuts which are roasted to perfection and pressed to remove most of the fat. The result is a Powdered Peanut Butter that has a delicious peanut butter taste while providing 5g of protein and 85% less fat than traditional peanut butter. Just mix with water and create a rich, smooth, and creamy peanut butter spread.
Nutri-Nut is not only a tasty spread but also great for dips, toppings, smoothies and as an ingredient in baking.
With 5g of protein, not only is Nutri-Nut is a delicious and nutritious way to add protein to a snack or meal it is also gluten free, non GMO and contains no artificial flavors, preservatives or sweeteners.
Our Chocolate flavoured Nutri-Nut is a blend of powdered peanut butter and rich Dutch cocoa. It doesn't get much more delicious than the combination of peanut butter and chocolate.
Ingredients:
Roasted Peanuts, sugar, salt.